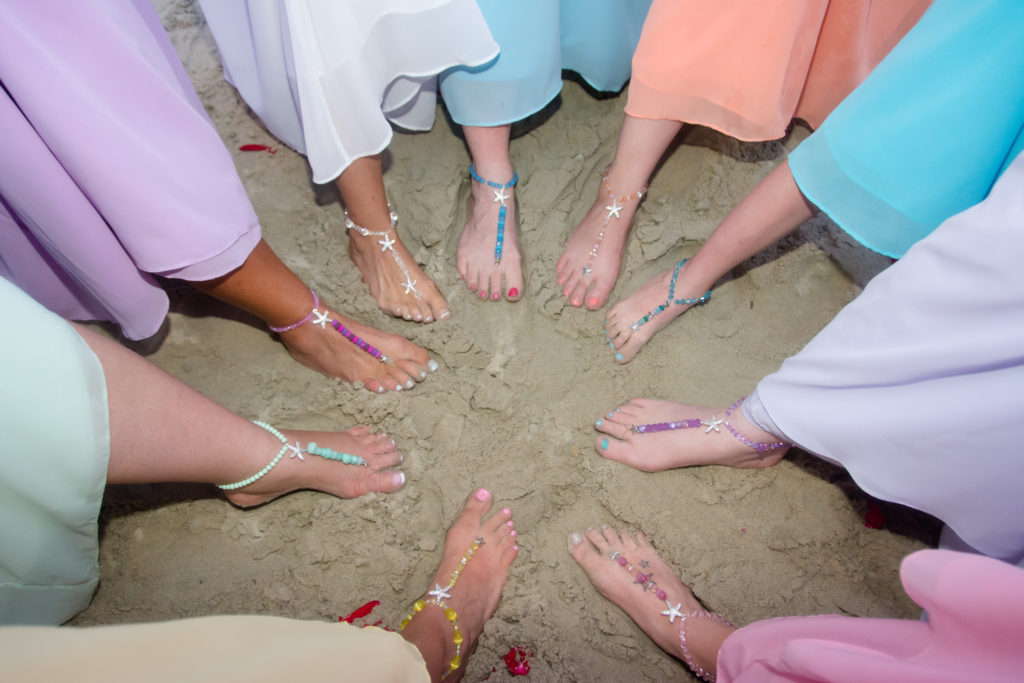 Sandy Toes Monday – Friday, $999
Saturday Premium: Add $200
Sunday and Legal Holidays: Add $100
Sunrise Ceremonies: Add $100
This Package is perfect for the cost-conscious bridal couple who wants an "all-inclusive" wedding experience
complete with ceremony AND decorations but does not need all of the bells-and-whistles that some of our other, higher-priced packages include.
If you have been searching the website for the lowest-priced package that already includes our gorgeous DECORATIONS, then this is the PERFECT package for you!
Please note: The Sandy Toes is an "entry-level-decorations-included" package and is NOT eligible for "ADD-ONS" or customizing like most of our other packages (included in this are items such as PHOTO ALBUMS, BOUQUETS, PERSONALIZED ITEMS, etc). If you would like any of these items, please consider a different Package. The one exception to this rule, however, is that you MAY upgrade your "Decorations" to another setting above $500.

Specific Package Details:
Our officiant will conduct your spiritual or civil ceremony and customize (personalize) to your wishes.
Wedding ceremony is available at APPROVED beach locations and hotels, at just about any place you choose in the greater-Myrtle Beach area. We will travel to the location of your choice and perform the wedding on the beach as long as the beach is located in a "legal" beach-wedding zone. (Your wedding planner can help provide direction as to where those zones are located).
The ceremony will be beautifully scripted, choreographed and presented.
Your wedding site will be selected and prepared by us to ensure as much privacy and cleanliness as possible (usually raked with heart in sand).
We will complete, notarize and file your marriage license with the courthouse AFTER the ceremony is completed. (By law, we are not permitted to obtain your marriage license for you – it is just like getting your Driver's License. Your wedding planner will instruct you how to apply for your South Carolina license which must be done in person).
You have unlimited phone and e-mail consultation with us to find your wedding site, reception site options, hair stylists, or whatever it takes to make you happy.
"What if it rains guarantee". We will work with you to ensure the ceremony and photos are a memory that are positive and wonderful.
The

use of our beautiful Silk Bouquets

for the bride

. To see the bouquet collection from which you can choose,

CLICK HERE

.
Sand Ceremony with Keepsake Unity Set

. To see all of the 18 beautiful colors from which you can choose,

CLICK HERE
Bridal Music with use of microphone

(YOUR choice of songs for Processional, Sand Ceremony, Recessional or even 1st Dance on the beach). Just let us know the name of the song and artist and we do the rest.
8 Wedding Chairs (unless the "Decoration Setting" you choose comes with a higher amount of chairs, then you automatically receive the HIGHER amount for no extra charge!)

Candid and posed Photos will be taken before, during and after the wedding ceremony by a

PROFESSIONAL PHOTOGRAPHER

. A minimum of 150 unedited photos or

ONE FULL HOUR

of photos will be taken. We will include photos of family members and friends.
We use high resolution digital professional grade equipment and flash for highest quality photo results.
You will receive all your unedited and un-copyrighted images in high resolution (jpg format) on a CD with a written copyright release. This will allow you to make as many copies as you want. Your CD is normally available for pick up within 24 hours or we can arrange to have the pictures available in a file that you can download from your computer once you get home.

This Package already has a Decoration Setting included in the price!!
You may select ANY

Decoration Setting you see on our website priced at $500 or under

.
That gives you a choice of over 20 unique and beautiful settings from which to choose – something to suit every style or preference. You can have any color that we carry put on your Setting selection at no extra charge (assuming that the color you want is not already sold out on your wedding date).
Should you find a Decoration Setting that you like best that is greater than $500, you may certainly get that selection –

you just pay the difference of the selection you choose and the $500

. (For example, if you choose a Setting that costs $549, you would just add $49 to your total).
Regardless of which Decoration Setting you choose, this Package comes standard with 8 White Chairs for the price listed. However,

if you choose a Decoration Setting that already includes MORE than 8 chairs, then you get the higher total.

(For example, the "BA-5" comes with 16 chairs – so you would get 16 chairs instead of just 8!!)